The most reliable & authoritative travel guide on Hampi, compiled by a team of locals & experts.
Towards the end of 13th century an invading Turko-Afghan army marched into South India and demolished the great dynasties of the time. In the power vacuum & confusion that ensued, a band of brothers built an empire that rose as a bastion resistance against invading armies of the north. In a short period of 30 years the empire grew to include most of southern India, all of this wealth was directed at building a grand city at Hampi.
Vijayanagara – "The city of Victory", went beyond the being citadel of defensive orthodoxy to be the seat of wondrous innovations. Its rulers went beyond religious resentments to grab opportunities and build an eclectic future. Men and Women from all over the world arrived in the capital, bringing bold ideas and cultural influences. The glorious rule of Vijayanagara, shaped the south Indian cultural ethos & geo-politics in substantial way. 
Close to 250 years after the city was built, the invading armies from the north finally succeeded in breaching its defenses and laid it to ruins. Hampi today is a protected UNESCO world heritage site, whose core zone is spread over an area of 42 square kilometers encompassing ancient temples, basements of palaces, remains of aquatic structures, ancient market streets, royal pavilions, bastions, royal platforms, treasury buildings and more. 
WHAT MAKES HAMPI TRULY UNIQUE?
Many of India's glorious cities of the past survive in some form within the modern urban sprawls of today. Sites like Old Delhi, Panjim are good examples of how the new and old parts of cities co-exist. These sites have never been completely abandoned, people have lived and replaced parts of old with the new, these sites have seen continuous change. In India we even have cities like Varanasi or Madurai that have over 2000 years of continuous history.  What makes Hampi unique amongst the heritage cities is that it was completely abandoned in 16th century and has been in rural hinterland ever since. Due to this most of the city's layout, temples, forts, administrative, ceremonial and military structures still survive in various stages of ruins. Nowhere else in India you can see ruins of an entire royal citadel spread over 40 square kilometers. In its prime, the city of Vijayanagara was amongst the richest & most populated cities in  the world. Visiting Hampi is like travelling back in time, you can relieve the life of a glorious a medieval Indian city. 
The Group of monuments at Hampi are designated as a UNESCO world heritage site spread over 42 square kilometers. Most heritage sites in India will comprise of single monument or structure, some of them will be a collection of structures, here in Hampi there are over 1500 heritage structures that include temple complexes, ancient markets, aqueducts, water tanks & irrigation systems, royal & public baths, administrative & ceremonial structures, zenanas & palaces, military & defensive structures, stables for elephants, residences of nobleman. No where else in India will you find such an expansive heritage site.
There are some 29 villages within the protected core zone of the site amongst the ruins, people living in these communities are an important part of this site, the festivals they celebrate, their traditions and livelihoods are deeply influenced by their shared past and proximity to the medieval capital city of Vijayanagara. This is why Hampi is often referred to as a living heritage site. Along with enjoying the sights of Hampi, one can immerse oneself in the culture of this place through its people. 
One of the first thing a visitor notices as they enter Hampi, is its awe-inspiring landscape filled with uniquely shaped boulders stacked on top of each other. These readily available rocks were used as the primary building material for the Temples in Hampi, as pillars, lintels, roof and so on. Through human ingenuity and hard work this dry arid landscape was transformed into lush river valley by people of Vijayanagara. The boulder hills provided natural defence against invaders. Today this is a rich agricultural belt that is able to harvest upto 4 or 5 crops in a year. The area is home to a variety of endemic as well as migratory species of birds. The river ecosystem supports river otters, crocodiles and many species of fish. The boulder hills are home to sloth bears, leopards, fox and other wild animal species. All together this is a stunning landscape that has a lot more to offer to the visitors.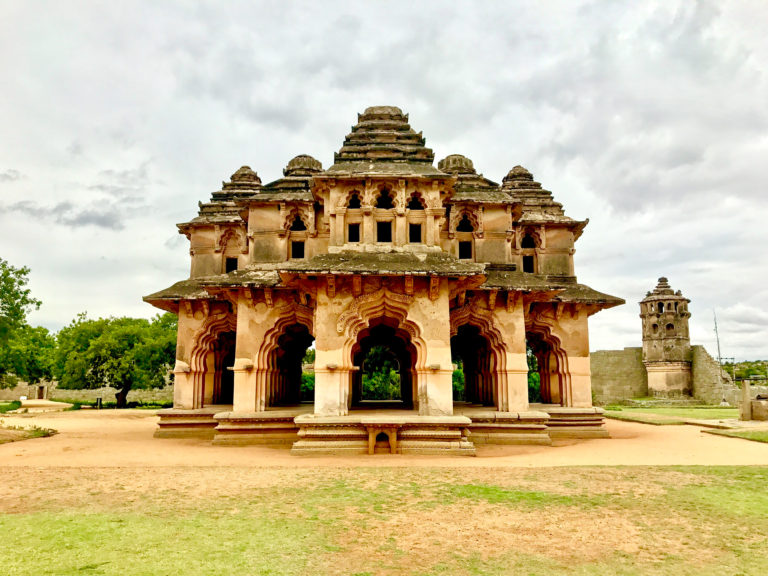 The temple architecture of Vijayanagara style is a natural evolution of Dravidian styles of the past, it is influenced by the Chalukyan and Tamil Pallava styles. What is more fascinating and unique is the courtly style of Vijayanagara, which is an amalgamation of Deccan Islamic style and Dravidian Hindu styles of architecture. Vijayanagara was a place where bold ideas and cultural influences from an increasingly globalised world merged and gave rise to its own unique styles. It is here that some of the first structures in Indo-Islamic styles were built, this is before the Mughals and Rajputs of the north. This courtly style of Vijayanagara is truly unique. 
Most visitors are drawn to Hampi due to its historic importance as the erstwhile capital of Vijayanagara. But there is so much more to see and experience in & around Hampi that you'd need 3 to 4 days at minimum. We have listed activities and experiences you can engage while in Hampi here, for a more information please refer to our article dedicated to Top 10 things to do in Hampi.  
Click or hover your mouse over the tiles below, the tiles are interactive.
PLACES TO STAY & LOCATION
Hampi is a protected heritage site, which means commercial activity within the core zone is heavily regulated by the local administration. The local administration over the years has tried to move guest houses/homestays outside of the core zone under the pretext of protecting the heritage site. This has affected the livelihood opportunities of hundreds of local residents. Due to the reasons above most licenced accommodation options are located outside of the corezone in neighbouring towns and villages. We have tried to list the different areas where accommodation options are available, and the pros & cons of each area. You can visit our blog for a recommended list of accommodation in Hampi. 
Janata Plot : Years ago the district administration drove out the residents who lived amongst the heritage structures at Hampi Bazaar. The displaced residents then built a shanty town next to Virupaksha temple. Over the years some residents built guest houses, restaurants and shops within this area named Janata Plot. Rooms here are simple and comfortable. If you are a budget traveller who will be spending most of your time out exploring then this could be a good option. The location is a big plus because you are close to the center of Heritage sites in Hampi. No alcohol or Non Vegetarian food is served in this area due to its proximity with Virupaksha Temple. The area is under litigation so their status keeps changing, so check with the property owner before booking.
CURRENT STATUS : Janata Plot
Whether the residents here can operate commercial establishments here is under litigation. Over the years the status has been flip-flopping based on the court orders and appeals. So check with the accommodation provider directly before booking.
Virupapura Gaddi / Hampi Island / Hippie Island : This is an Island on Tungabhadra river, and is connected to Hampi by a ferry boat (or 30 Km route by road). It is partly agricultural, partly forest land and it comes under the protected core zone of Hampi. This area has the highest density of guesthouses near Hampi, set amongst paddy fields and along the river. If you are a budget traveller and would like to spend some time relaxing amongst beautiful surroundings then this is a good option. This is also a good option if your looking to go boulder climbing.
CURRENT STATUS: Hampi Island
In the month of March 2020 the district administration demolished 90% of guest houses in the area. The remaining few guest houses have ceased operations. We will update this section based if there is change in situation.
Kadirampur / Prakash Nagar / New Hampi : Some of the displaced residents from Hampi Bazaar have been allotted government land in nearby villages. Here they have started to build guesthouses and restaurants. Some have started calling this place "New Hampi".  This area is a 15 minute autoride from Hampi. Another convenient location for budget travellers. 
Kamalapura / Malapanagudi : Just beyond the core zone of Hampi are villages of Kamalapura & Malapanagudi. You can find a variety of properties here. Standard category properties like KSTDC's Mayura and Clarks Inn Hotel. Premium category properties like  Heritage Resort Hampi and Jungle Lodge's Wilderness Resort. Luxury world class property like Evolve Back Resorts. All of these are within 5 to 8 Kms from Hampi.
Anegundi : This is a heritage village located on the northern bank of Tungabhadra. It is connected to Hampi via a ferry across the river at Talwar Ghatta boat point (Close to Vittala Temple) or alternatively it is 22 Kms by road to hampi.  If you want to immerse yourself in the cultural heritage of Hampi through its people, then this is a good option for you. You live amongst people in guesthouses or homestays, away from the mad tourist traffic but fully immersed in life of an idyllic Indian village.  The Kishkinda Trust (TKT) operates few properties here.
CURRENT STATUS : Anegundi
Anegundi village lies within the corezone of Hampi. As a result the accommodation options here too are threatened. In the past district administration have bulldozed few properties for unlicensed commercial activity here. However as of today the properties here are operational.
Hospet : This is the main town located 15 kms from Hampi. There are several properties catering to all kinds of budgets. This is where most visitors to Hampi choose to stay for its affordability and options. You can choose amongst Royal Orchid Hotel, Mallige Hotel, Krishna Palace, Priyadarshini Pride and many others
By Plane: The nearest airport is at Vidyanagar (45 Kms), which operates daily flight from Bangalore and Hyderabad. Check Trujet website for more details. We also have airports at Hubli (143 km – 5 Hours), Bangalore (360 Kms – 7 Hours) and Goa (360 Kms – 8 Hours) 
By train: The nearest railway station is Hospet Junction (IR station code: HPT), 13km away. Overnight trains run several times a week from Bangalore, Hyderabad and Goa. From Hospet train station it is very easy to hop on a local bus which goes between the railway station and the main bus station and onward to Hampi (same bus). If you don't want to wait then you can also get an Auto Rickshaw to take you to Hampi (INR 300 – 350)
By bus: Karnataka State Road Transport Corporation operates daily buses to Hospet from Bangalore, Goa, Mysore and Gokarna. Book your tickets in advance if you want a coach or an air-conditioned service. There are private bus companies operating buses on these routes too, in addition there are buses from Pune & Mumbai. 
By Road: You can hire a cab from one of these cities or drive down yourself.  If you are booking tours/accommodation with us, we would be happy to arrange a pickup from any of these cities as well.  Please contact us for assistance or more information.
The sites in Hampi are spread over 42 square kilometers, use of local transportation therefore becomes a must. If you opt for a private tour or package then the operator will provide local transportation and pickup/drop services included in it.  Here are the different options to consider for local transportation. 
Hired Car : This is the most convenient option for travellers to Hampi. Specially if your accommodation is in Hospet or one of the distant villages. It also allows you to cover sites that are away like the Sloth Bear Sanctuary, Anjanadri Hills, Megalithic Tomb Sites etc. Hampi also gets warm during mid-day, having a comfortable air-conditioned car to get to in between places might be something you want to consider.
Hired Auto Rickshaws : The most popular way of getting around different sites in Hampi is the humble Auto Rickshaw or the tuk-tuk as some people call it. You can even book one for the entire day. You can find auto rickshaws at the stand near Hampi Bazaar anytime of the day. 
Bicycle Rental : This is a great way of exploring the monuments in Hampi as long as you have the energy & time on your side.  There are plenty of vendors in the Hampi Bazaar area that will rent cycles on hourly basis. Only single speed cycles are available as of today. Please inspect the condition of the bike before renting it. 
Mopeds / Motorcycles Rentals: Currently entry of rental mopeds or bikes are strictly regulated within the protected areas of Hampi. Only rental vehicles with appropriate registration papers are permitted. You will know if the rental vehicle is legitimate by looking at its registration plate, which should be in black colour with number displayed in yellow colour. If it is any other colour then do not rent it, as you will be denied entry.  Mopeds can also be rented at Hampi Island to explore the countryside.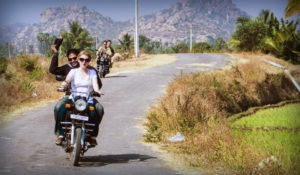 Secrets of Hampi revealed by an insider. Learn about all...
Read More