Insiders tips on all the fun and engaging things to do in Hampi
DISCLAIMER: While this list is by no means exhaustive, we have tried to compile all the most interesting and unique things to do in Hampi here. The list follows no particular order or ranking either. We understand that every individuals has a different perspective, so a ranked list would look different from each person's POV (Point-of-view). Our intent in compiling this list is to provide you with inspiration to plan your trip, we hope this will give you some idea on what you could be doing while in Hampi. 
#1 of things to do in Hampi : Explore the ruins of the medieval city of Vijayanagara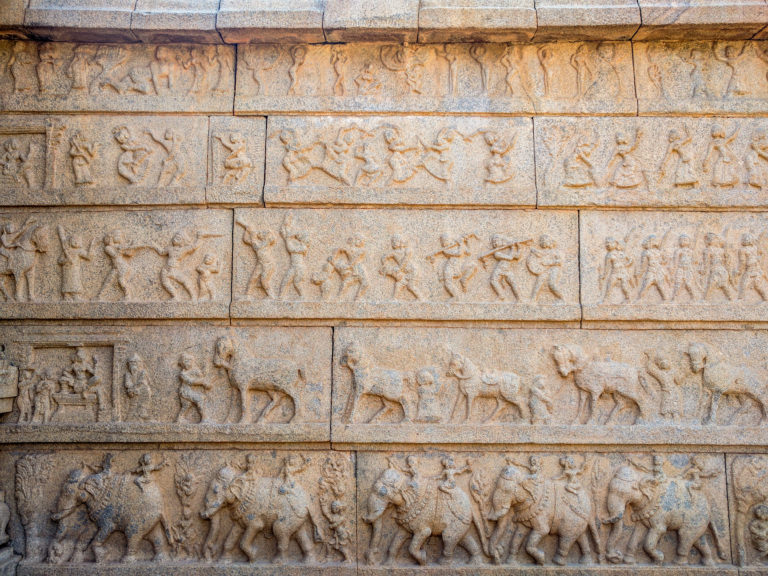 Spread over 40 Square kilometers the UNESCO world heritage site of Hampi comprises of temples complexes, fortifications, step well tanks, festival platforms, medieval markets, basements of palaces, baths, military and administrative structures, stone carved monoliths, aqueducts, stables, armoury and many such structures. Nowhere else in India you will find ruins of an entire city including parts of the citadel of a Hindu King in such well preserved condition. Explore the Vittala Temple considered as pinnacle of temple architecture in Vijayanagara style, famous for its musical pillars & stone chariot. Visit the 1200 year old Virupaksha Temple that continues to function as a living heritage temple. Do not miss the exquisite monoliths of Laxmi Narasimha & Sasivekalu Ganesha. Finally visit the Royal Enclosure & the Zenana Enclosure to get a glimpse into the Indo-Islamic architecture style pioneered by the Vijayanagara artisans. 
Explore Hampi offers an engaging Heritage Tour of Hampi, where we explore the rich history of Vijayanagara empire, learn about unique architecture of various monuments, hear stories of victories and defeat. If you are looking for a well researched tour of Hampi that covers all the important monuments then this one is highly recommended. This is the top rated tour of Hampi on all of the review sites. 
Alternatively you can explore the site on your own, make sure you buy a good guide book on Hampi. This will ensure you make good use of your time and have context to what you are seeing. You can also hire ASI guides that will be able to show you around the sites. 
#2 of things to do in Hampi : Ride a moped & explore the countryside landscape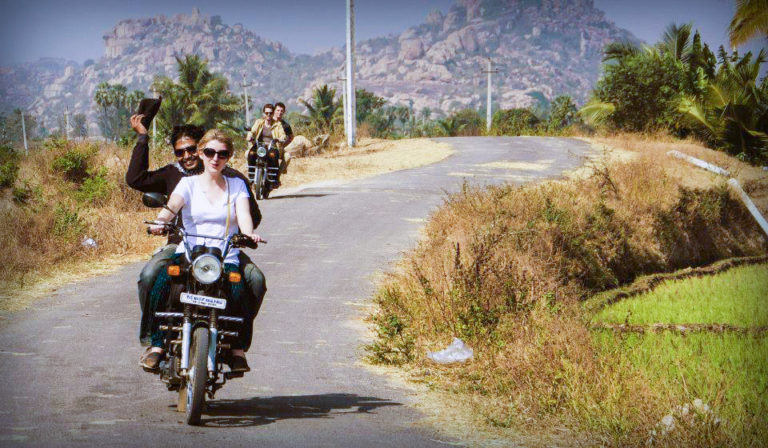 On the northern side of Tungabhadra river are many small charming village settlements, people living in these villages are an essential part of the cultural heritage of Hampi. To see and experience the local culture of Hampi, one has to visit these villages. The mighty river cutting through the awe inspiring boulder hills also makes for a unique landscape.  
The best way to explore these villages and the landscape is on rented mopeds. You can easily rent mopeds at the Hippie Island. Be sure to fuel up before you set out exploring. 
You can also join us on our Mythical Landscape Tour, where we provide you with mopeds and fuel, where we show you hidden spots only locals would know. On this tour we explore the landscape in fun and engaging ways!  We ride mopeds through the countryside, cross the river on a coracle boat, hike up a hill to watch the sunrise and eat delicious local breakfast. 
If you are not the adventurous type but are interested in an immersive experience of village life and its culture, then you could join us on our Village Life Tour. This tour is all about immersing yourself into the local culture and learning about life in villages. We will interact with locals from the community and hear their stories. We will eat home cooked lunch at a villagers home, meet a farmer and learn handicraft from local artisans. 
#3 of things to do in Hampi : Coracle Boat Ride over Tungabhadra river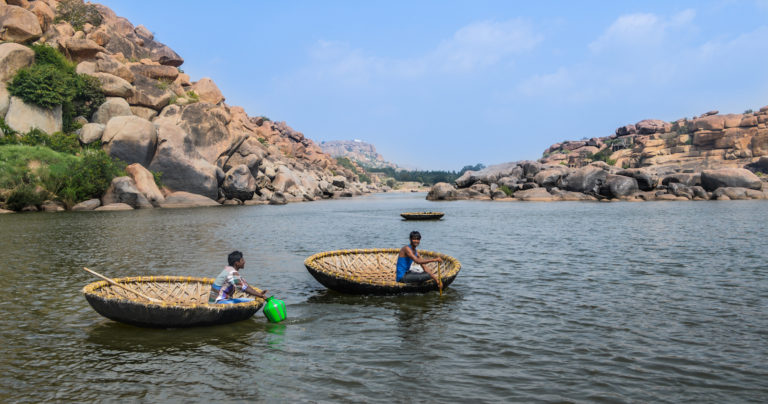 A unique thing to experience in this ancient town is to enjoy a coracle ride on the waters of the River Tungabhadra. Coracle is a circular shaped country boat that can carry about 6 to 8 people on a single trip across the river. These coracle boats have been in use in Hampi since before the Vijayanagara period. Traditionally these boats were used by local fisherman for fishing and to ferry people across the river.
A Coracle boat ride on Tungabhadra provides a unique visual perspective of Hampi that you cannot get any other way. On your ride you can make pit stops near Surya Mandapa and explore hidden river side relief sculptures.
Head to the Chakra Tirtha Point and you will find a few boats ready to ferry you. They will provide you with a safety jacket. We arrange coracle boat rides on  our Mythical Landscape Tour or on request we can arrange it on our Heritage Hamp Tour.
#4 of things to do in Hampi : Hike up a hill to catch a Sunrise or Sunset
One of the first thing a visitor notices on entering Hampi is its awe-inspiring landscape of boulder hills. This landscape provides some of the most beautiful backdrop to sunrise and sunsets you will ever see. So catching a sunrise or sunset is a must do activity for all visitors to Hampi. 
For a good sunset view you can climb up Anjanadri Hill or watch it from Sunset point on the Hemakuta Hill. There are other lesser known spots like the Malyavanta Hill, Gangavathi Bridge overlooking the river and sunset point on hippie island. 
For a Sunrise you can climb up Matunga Hill for the best view. Other alternatives are Anjanadri, Malyavanta Hill and Chintamani Ghat at Anegundi village. 
If you are unsure of doing this yourself then join us on our Mythical Landscape Tour, which includes a sunrise hike followed by river side walk, coracle boat ride, moped ride through countryside and delicious local breakfast. We also have an optional Add-on to our Hampi Heritage Tour with a Sunset & Home cooked dinner with a local family option
#5 of things to do in Hampi : Enjoy a Delicious local meal
Food is an essential part of any travel experience, a trip to Hampi would be incomplete without having tried local food. This region in Karnataka is known for its dishes made from Brinjal, Banana Flowers, Banana Shoot, sprouted lentils. The Bedgi Mirchi from this region is famous and used generously in all preparations. Holige is the most popular sweet on offer. Variety of pickles are available. Jowar Roti with a spinach lentil curry is a staple in most households. 
You can visit the Mango Tree Restaurant and enjoy their traditional Vegetarian Thali. Another popular place is the Green Restaurant at Kamalapur. However for an authentic food experience you have to try the home cooked meal. On our Village Life Tour, a local family will host you for a traditional lunch. All the food prepared is organic and from your hosts own farm, prepared in their kitchen with a lot of love. So sign up for this tour if you want to experience authentic food of Hampi. 
#6 of things to do in Hampi : Buy local handicrafts and support local economy
Travellers today are more conscious of what they buy and where they buy from. Buying locally made products ensures that your money goes into supporting local endeavours. 
Anegundi village is home to over 250 women artisans who turn naturally available materials like Banana Fiber and Water Hyacinth into trendy handicrafts. You can buy mats, vases, baskets, purses, handbags and variety of other designs. Sandur village about an hour from Hampi has a women's cooperative that makes Lambani Jewellery and Fabric Pieces. 
Another local craft from this region is the Ilekal handloom cotton saree. Beautiful and classic designs are available in the town of Ilekal which is a pit-stop on the way to Aihole from Hampi.  
Explore Hampi organises special art workshops for groups that are interested. On our Village Life Tour, you will get an opportunity to get hands-on and learn from a local artisan. You will also have the opportunity to buy directly from the artisan should you choose to. Such a purchase is a lot more meaningful because you will know the name and location of the artisan from whom you bought it, and hopefully it'll make you cherish the product a lot more. 
#7 of things to do in Hampi : Relive the stories from Ramayana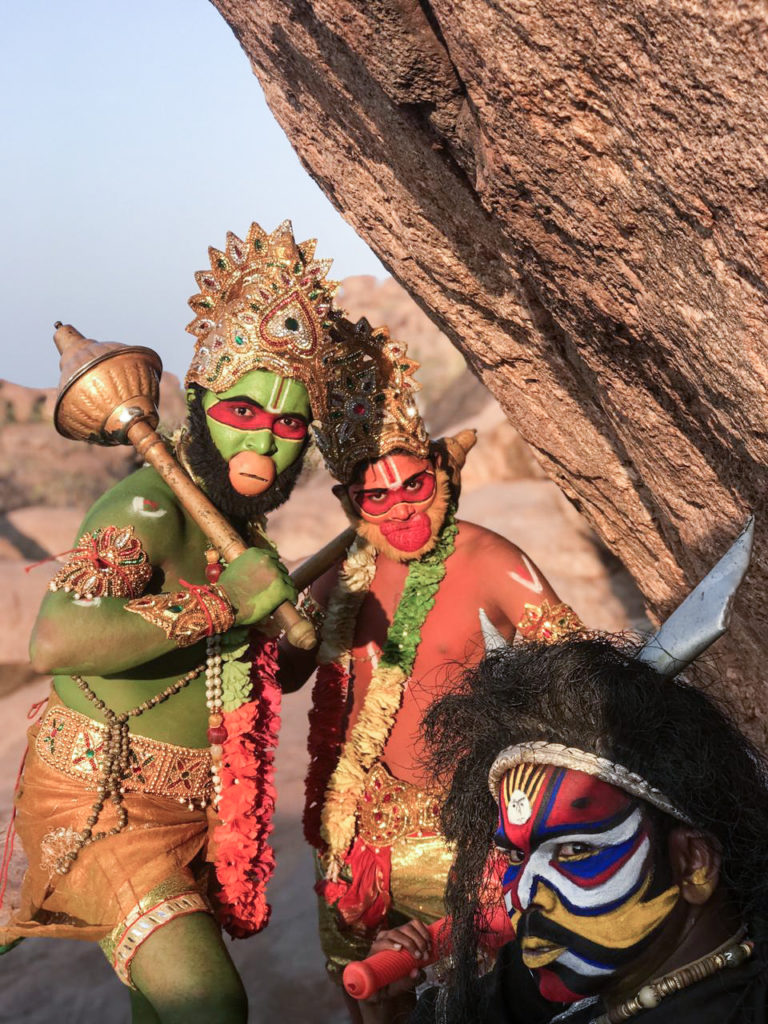 Hampi and surrounding villages together are believed to be the Mythical Kingdom of Kishkinda mentioned in Ramayana. The Ramayana is an ancient Indian epic which follows Prince Rama's quest to rescue his beloved wife Sita from the clutches of Ravana with the help of an army of monkeys. In the fourth chapter of Ramayana, Rama arrives in Kishkinda in search of his abducted wife. 
The story of Ramayana here begins from Rama's arrival at Kishkinda. Different sites associated with this part of the story are located here in Hampi and surrounding villages. For instance Pampa Sarovar where Ram meets Shabari who advices him to meet Hanuman. Rishimukha Parvath where Ram & Lakshman first meet Hanuman and then Surgriv. Anjanadri hill which is believed to be birth place of Hanuman. The Cave at end of Chintamani ghat where Ram stood and shot arrow at Vali to kill him. Vali Gufa where Vali and Dindhubi fought to death. Malyavantha Hill where Ram & Laxman spent few months before proceeding towards Lanka. Many such sites and many stories to hear. There is also a lot of iconography and living heritage that adds to the richness of Ramayana stories here. 
Explore Hampi runs the Ramayana Tour, where we narrate the story of Ramayana as we visit important sites associated with the epic. This tour allows you to immerse in the story, devotion and find a spiritual connection to Ramayana. For larger groups we also arrange folk art performance of Ramayana by a group of tribal artisan community. A 10 member crew will perform in the open at a stunning location with accompanying music and singing. This can be arranged on request, please contact us for enquiries. 
#8 of things to do in Hampi : Discover the prehistoric cave paintings and Megalithic tombs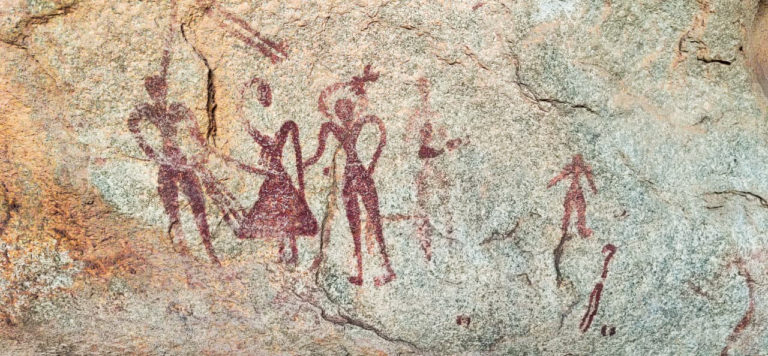 While Hampi is known as the erstwhile capital of Vijayanagara empire (1336 to 1565 CE), human settlements in the region date back to at least 1500 BCE.  Boulder hills surrounding Anegundi village to the north of Tungabhadra are filled with evidence of neolithic sites. At Kadebaklu there is a neolithic metal foundry adjacent to a rock shelter where ceramics of different types have also been recovered.  At Hire Benakal we find ancient burial sites with over 60 dolmens (burial tombs) made of stone. Ceramics and rock art has been found at this site as well. 
Our own team at Explore Hampi have discovered several undocumented sites in the area. The image above for instance was captured by our team on one of our expeditions.  It depicts someone important, perhaps a tribal leader (with a headgear) and his partner (with a skirt like garment or robe) participating in some sort of ritual.  Other scenes depict hunting, dancing, cattle herding. These paintings give us an important insight into lives of prehistoric humans in the region. 
Most of the rock shelters with cave paintings are inaccessible, some of them are high up on boulder hills, some are on private land with restricted access. Today it is very difficult as a visitor to gain access to these locations on your own. At Explore Hampi we can organise special expedition with required permissions on request. It is also possible to organise a hike to Megalithic site of Hire Benakal on request. 
#9 of things to do in Hampi : Try your hand at bouldering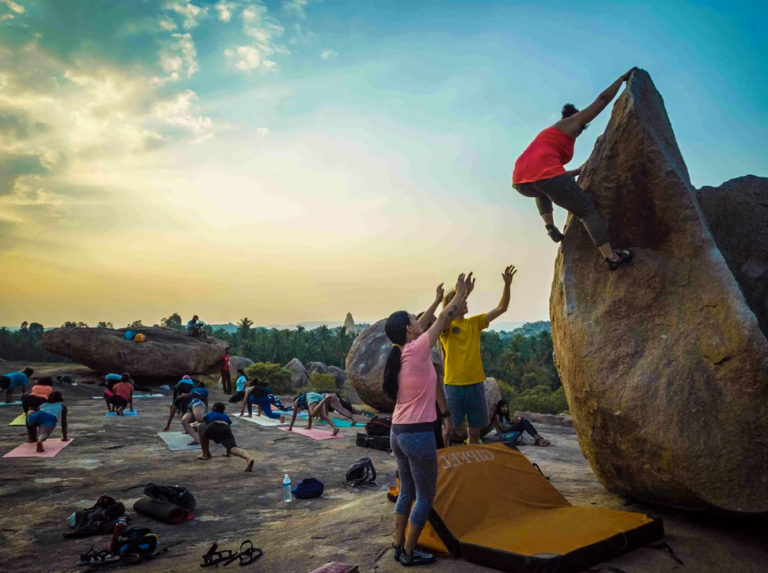 One of the first thing one notices as they enter Hampi, is its awe-inspiring landscape filled with uniquely shaped boulders stacked on top of each other.
About 3600 million years ago magmatic action metamorphosed older gneiss rocks into Pink Porphyritic granite hills. What started off as large monolithic granite hills slowly transformed into boulders & slabs due to the weathering by the elements along the natural fractures in the rocks. 
These unique features of the boulder provides a great opportunity for climbers. Bouldering enthusiast and professionals from all over the world come to Hampi to try their hand at conquering the boulders of Hampi. 
Several climbing festivals and events are organised every year at Hampi focused on bouldering. These events are the best opportunity to learn climbing. One of favorites camps is the one organised by CLAW (Climb Like A Women) which is focussed on women only climbers. Alternatively you can head to the Goan Corner on the Hippie Island or visit one of the many climbing shops at the hippie island. For seasoned climbers these shops will provide you with mats and required equipment on rental basis.  
#10 of things to do in Hampi : Spot some rare and beautiful birds
Hampi is known for its archaeological grandeur, dramatic natural landscape and rich biodiversity. Its rocky hills, scrub jungle, mighty Tungabhadra river, lakes, irrigation canals and fertile farmlands are home to more than 230 species of resident and migratory birds. It has also been recognised as Important Bird Area (IBA). 
If you set out early morning you could spot at least few amongst these Yellow throated bulbul, Green bee-eater, laughing dove, Rose-ringed Parakeet, yellow-billed babbler, black drongo, white-throated Kingfisher, Indian robin, Indian silverbill, little cormorant, gray heron, indian pond heron, little Egret, Indian peafowl, Red Avadavat, Purple Heron, Asian Openbill and Indian paradise flycatcher. 
Some of the best spots are at the base of Matunga Hill, Sanapur Lake, Kamalapur Lake, Jangli Valley Irrigation Canals. 
If you are serious about birding then pick your copy of BIRDS OF HAMPI a handy birding guide authored by Samad Kottur who is a wildlife activist and naturalist based on Hospet. The book helps in easy identification of the regional avian species. Each species is described with the vital information such as plumage, breeding season, identification tips, best place to see. 
At Explore Hampi we organise birding expedition on request. A naturalist or wildlife photographer will lead you to the best spots and guide you with the entire experience.  
Social Share