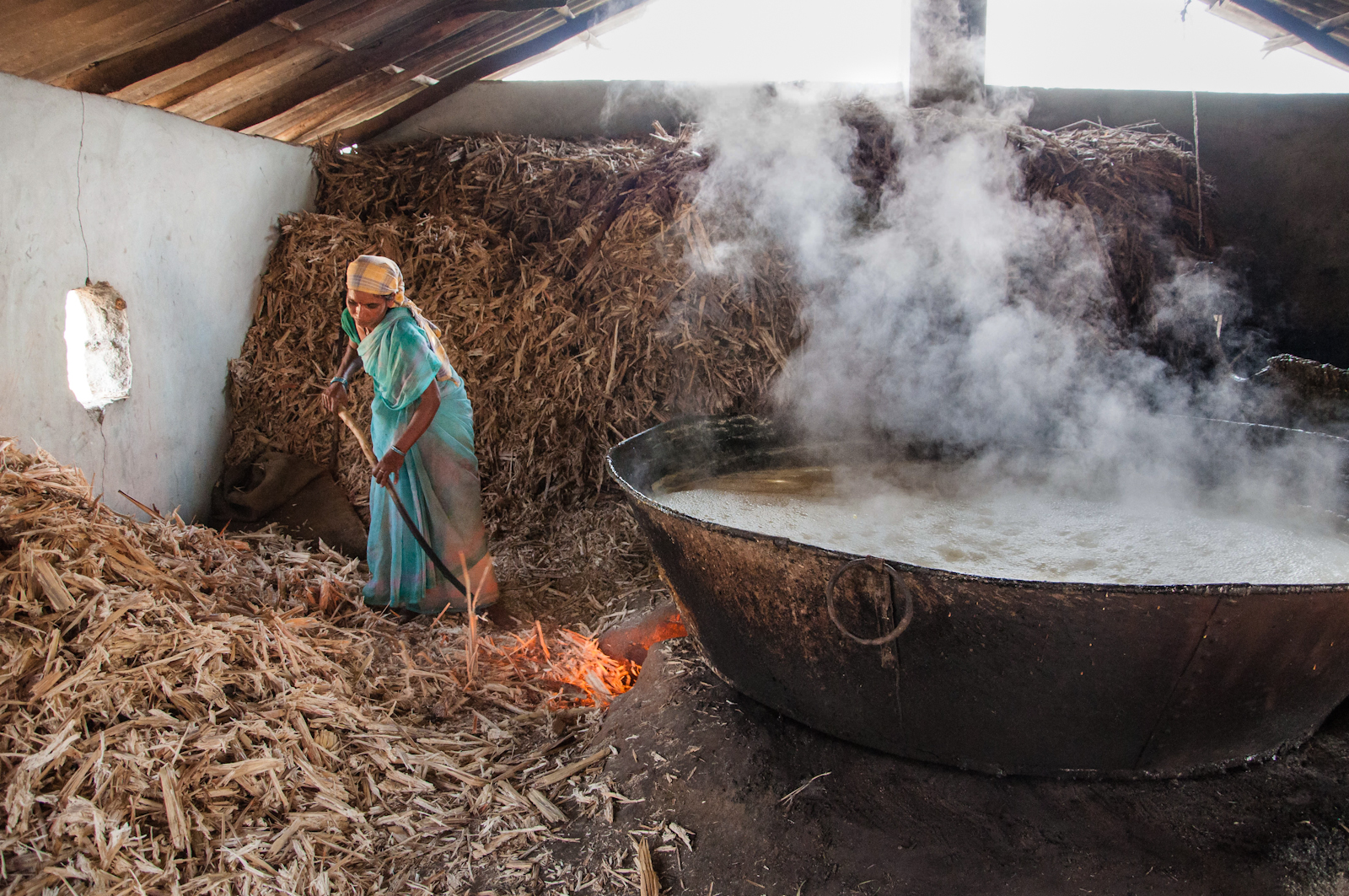 Photo by  Arjun Bhat
The Story of Kavitha  – A Jaggery Factory Worker :
We met Kavitha at a Jaggery production unit near Hampi. She has all the skills needed to work at different production stages of Jaggery. Since the work is irregular and seasonal, she works whenever she has an opportunity to. Kavitha also works the same job at multiple units on different days and earns minimum wage to support her family. She also has to stir the cane juice continuously to keep it from burning at the bottom of the vessel. In this picture, you can see her working the furnace.
History :
Sugarcane is a cash crop grown widely in villages around Hampi. While most of the crop goes to large sugar factories, some of it is used by local industries to produce Jaggery. In Jaggery production which is a small scale industry, most of the manufacturing processes have remained unchanged. Traditionally, sugar cane cultivators used oxen to run the crushers but these days, the crushers are power driven. The factories are located in fields near the sugar crop.
The Process :
Sugar cane is put into the crushers to extract cane juice, which is collected in a big vessel. The Juice is then transferred to a large cauldron for heating on a furnace. Dried pulp from the crushed sugar cane is used as fuel, this way it is self-sustaining. Some lime is added to separate impurities while heating the juice. The juice thickens in a few hours and it is stirred continuously at this stage with a wooden spatula. It is then poured into a flat bottomed container to cool down and solidify as Jaggery.
Be a part of our Hampi Cultural Tour to truly experience life in a Heritage Village. Listen to folklore from the locals and enjoy a scrumptious home-cooked meal. You also get to witness indigenous art forms and enjoy the stunning landscape on a bullock cart.  Accompanied by an expert guide, this is an experience you do not want to miss!