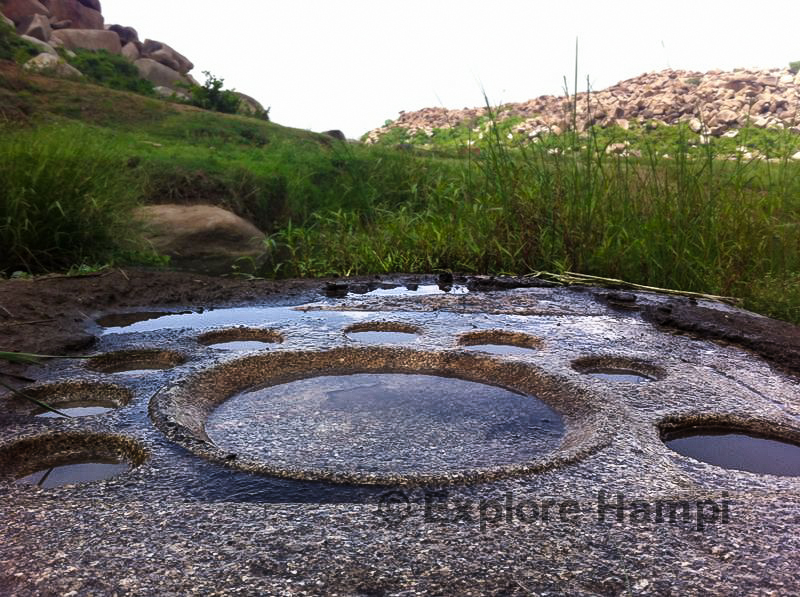 The word "Thali" means a plate. A Thali meal basically consists of multiple dishes served on a plate with bowls or "katoris" in them. Today restaurants all over India serve thali meals on stainless steel plates. The origin of this tradition isn't known but we know that Indian Royal families used thalis made of Gold and Silver. You are probably wondering what does a thali have to do with Hampi? Let me explain.
On one of our recent scouting trips, we discovered a unique rock carving on a boulder, the resemblance of which to a thali is very clear. Eating off of rock surfaces in this region was a common practice during the Vijayanagara period. We've also seen plate carving in few other spots in the region. But this is the only one which is detailed, well preserved and has multiple bowls carved into the stone along with the plate. One of our Facebook followers noted that he has seen similar carvings in Lepakshi temple in the state of Andhra Pradesh. We found pictures of the same posted by a traveller.
Next to this thali carving is a mantapa, nearly 3/4 of it is still buried underneath. State archaeology or ASI hasn't marked it yet. It is located next to a canal that connects the legendary Pampa Sarovara with the Tungabhadra river. According to local folklore, there was a Sadhu living here during the Vijayanagara period. This could potentially be his eating plate and the mandapa his residence.
Encounter many such untouched sites with Explore Hampi – your one stop solution for an authentic and offbeat experience of Hampi. Our Day Tours have been carefully designed with activities to suit all ages and travel groups. We also offer complete Travel Packages that include transportation and accommodation along with the tours. Accompanied by an expert guide, this is an experience you do not want to miss!