This is a 4-day excursion that brings you a holistic experience of Hampi. On this journey, we will explore ancient monuments, learn about the ongoing conservation efforts and travel to the rural countryside. 
Participants will learn about the Vijayanagara empire and about the temple art of the Early Chalukyas. Along the way, they will have interactive sessions with Experts and learn more about Indian Temple Architecture. They will also get to absorb the culture of these lands while visiting a heritage village and interacting with the local community. That's not all! More adventure is in store as we become explorers for a day. We will map undocumented sites, venture into caves, participate in a mock excavation activity and engage on a beautiful morning hike up a fabled hill.
DAY 1 : Heritage Tour – Royal Center of Hampi
We begin our tour with a walk around the Royal Center at Hampi. We will discuss about the rise and fall of the Vijayanagara empire and visit their famous architectural marvels. We will cover beautiful temples, basements of palaces, and remains of aquatic structures, ancient market streets, royal pavilions, bastions, royal platforms and treasury buildings. We then close the day with an Expert Speak on 'Evolution of Indian Temple Architecture' that will set up the context for the remainder of the tour. A lecture accompanied by a visual presentation will be delivered in an interactive and engaging manner that will cover Indian architecture from 3000BCE to 1600CE.

Takeaway for Participants -
History of Vijayanagara Empire – Formation, Achievements and End
City Planning – Function of different structures, layout, architectural features
Expert Speak - Gives context about the Temple Art in and around Hampi
DAY 2 : Heritage Tour – Sacred Centers of Hampi
On this day, we will go on a trip to visit the magnificent group of monuments in the Malaprabha valley that spans across the towns of Badami, Aihole and Pattadakal. This valley is celebrated for its magnificent rock-cut shrines and structural temples. These Hindu and Jain monuments are associated with the Early Chalukyas who reigned over this part of Deccan between 6th - 8th centuries.
Pattadakal is a unique meeting place of distinctive Dravida and Nagara building traditions of Southern and Northern India respectively. One can view monuments of both these distinct forms of architecture built next to eachother and also witness individual monuments that have been built taking attributes from both these forms leading to a unique style not to be found anywhere else in India. Together, these temples and shrines are considered to be among the earliest, best preserved remnants of temple art in India.
Takeaway for Participants -
Witness the amalgamation of various forms of Indian temple architecture
Process involved in Surveying, Excavating, collecting and documenting a site
Working in teams and demonstrating leadership
Creative thinking and problem solving
DAY 3 : Field Adventures – Mock Excavation, Cave Exploration and Cultural Tour
Day three of our tour will have lots of activities that aim at educating the participants about the ongoing preservation and restoration efforts at Hampi. The heritage sites in Hampi are spread over an estimated area of 600 square kilometers. Under such circumstances, it is extremely difficult for the government to document and monitor the entire area. Over last couple of years, we have found several undocumented cave paintings, bass relief sculptures and other sites on our expeditions. We see a good opportunity to involve students in this documentation process. 

Mock Excavation -
This activity aims at introducing the process of documenting ancient artifacts. Students are divided into groups and assigned a pit for excavation. The excavation, article collection, preservation and documentation process is taught to the students. Each group will have to work as a team taking on different roles in the process. Upon completion, all collected items are displayed on tables assigned to each group. Based on the items found in the pit, each team will then write a story for their site.

Cave Exploration -
We will divide students into teams to explore undocumented areas in a treasure hunt like activity. Students will be looking for relief sculptures, cave paintings or other evidences of habitation from the Vijayanagara era. Once found, the site's GPS location is noted down, photographs of the site are taken and documented. This data will be handed over to the Hampi University and Archaeological Survey of India for further research.
As we bring the day to a close, we will take a fun trip across Hampi that will allow the participants to truly experience life in rural India. We will take a walk across a heritage village and interact with the locals as we visit important centers such as the local school, library and health-center. We will then ride bullock carts and enjoy scenic views of the land as we visit agricultural and dairy farms in order to understand the farm to table process.
Takeaway for Participants -
Importance of Archaeology and Preservation
Process involved in Surveying, Excavating, collecting and documenting a site
Teamwork, Leadership, Creative Thinking and Problem Solving
About livelihoods of people in rural India
Where the food they eat on a daily basis comes from, what goes into producing it?
Empathy and understanding of hardships faced by people in rural communities
DAY 4 : Mythical Landscape Tour - A Hiking Adventure
No trip to Hampi can be truly complete without experiencing the breath-taking aerial view of this mythical landscape from the top of Matunga Hill. Hampi and its environs have religious significance in Hindu mythology. It is popular in local folklore that the 'Kishkindha Kanda' from the epic Ramayana took place in these lands. The kingdom of Kishkindha ruled by the monkey kings Vali and Sugriva is believed to have been situated in Hampi. They say that when Sugriva and Hanuman were exiled by Vali, they took refuge on the Matunga Hill and it was here that they encountered Rama and Lakshmana who were traveling towards Lanka.

On the final day of the tour, we will engage on an early morning hike up this hill to catch the sunrise from the rooftop of the Veerabhadra Temple.The hilltop provides a magnificent view of the Tunghabhadra river, the Achuytaraya Temple complex, Hampi Bazaar and other habitations around the heritage village.
Takeaway for Participants -
Learn about  the significance of Hampi in Hindu Mythology
Listen to folklore narrated by a local
Glimpses of the Experience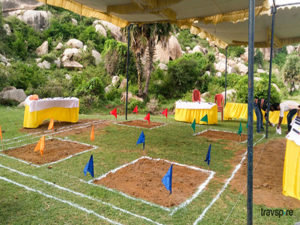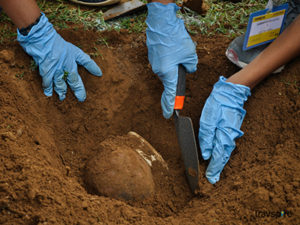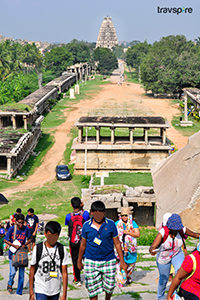 Want us to organize your educational tour?
Great! Send us your contact details in the below form and we will get in touch with you.