This is a 3-day excursion across Hampi. On this journey, we will explore ancient monuments and experience the rural countryside.
Participants will listen to stories of the mighty Vijayanagara kings, how they built this city and learn about their architectural style. They will also get to learn a bit more about the lifestyle of people living in a heritage village by visiting agriculture and dairy farms and interacting with the communities who have settled in these lands. They also have the opportunity to experience the archaeological restoration process as they become archaeologists for a day and conduct a mock excavation activity.
DAY 1 : Heritage Tour of Hampi - History and Geology
We begin our tour with a walk around the important sites within the UNESCO World Heritage site. In this interactive session, we will cover beautiful temples, basements of palaces, and remains of aquatic structures, ancient market streets, royal pavilions, bastions, royal platforms and treasury buildings. We will also discuss about the lifestyle of the people, trade practices during the ancient times and learn a bit more about the unique geology of this land. We then close the day with an art workshop where a professional artist will head a sketching session with the participants and help them sketch their favorite monument.

Takeaway for Participants -
History of Vijayanagara Empire – Formation, Achievements and End
About unique geology of the region and the Deccan Plateau in general
City Planning – Function of different structures, layout, architectural features
To sketch a monument on paper
DAY 2 : Mock Excavation - Conservation and Storytelling
On this day, we conduct a mock excavation activity that aims at educating the participants about the process of conservation and documentation of ancient artifacts. Students are divided into groups and assigned a pit for excavation. The excavation, article collection, preservation and documentation process is taught to the students. Each group will have to work as a team taking on different roles in the process. Upon completion, all collected items are displayed on tables assigned to each group. Based on the items found in the pit, each team will then write a story for their site.
Takeaway for Participants -
Importance of Archaeology and Preservation
Process involved in Surveying, Excavating, collecting and documenting a site
Working in teams and demonstrating leadership
Creative thinking and problem solving
DAY 3 : Cultural Tour of Hampi - Rural Life and Agriculture
On the final day of the tour, we go on a fun trip across Hampi that will allow the participants to truly experience life in rural India. We begin with a walk across a heritage village and interact with the locals as we visit important centers such as the local school, library and health-center. We will then ride bullock carts and enjoy scenic views of the land as we visit agricultural and dairy farms. We will understand the farm to table process and if possible, will also engage in the seasonal farming activity. We will then bring the tour to a close with a delicious traditional picnic lunch overlooking a stunning scenery.
Takeaway for Participants -
About livelihoods of people in rural India
Where the food they eat on a daily basis comes from, what goes into producing it?
Empathy and understanding of hardships faced by people in rural communities
Different art forms traditional and new practiced by the rural community here
Glimpses of the Experience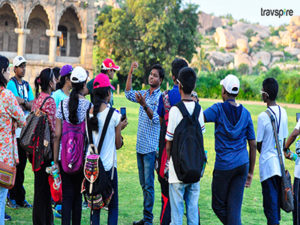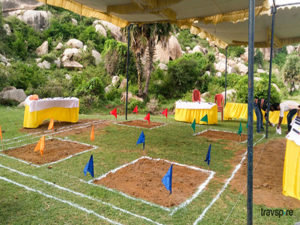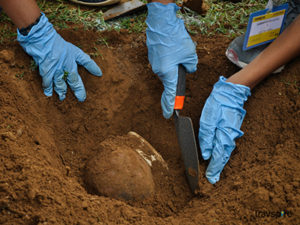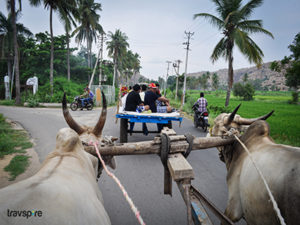 Want us to organize your educational tour?
Great! Send us your contact details in the below form and we will get in touch with you.